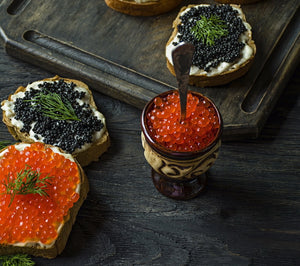 Caviar and champagne is a gastronomic pleasure!
Caviar, at all times was considered a symbol of prosperity.
One of the most expensive, and to this day, a delicacy, in the form of caviar, is considered an integral attribute of any festive table.
But the real higher class is considered a tandem-champagne and caviar, black or red.
Caviar is one of the lightest snacks.
Sparkling champagne perfectly complements the salty taste of caviar with its freshness.
This tandem is just a real aristocratic pleasure!
The most classic serving option is chilled champagne, to about 10 degrees, and I caviar in a dish with a spoon and thinly sliced bread or baguette. Next, a spoonful of caviar is eaten, after which a sip of chilled champagne is taken, and a piece of bread is eaten.
The taste range is impossible to convey, it can only be felt!
There is another way, very similar to the first, but more Russian.
This is a tandem of champagne and caviar sandwich, using a minimum of ingredients, namely: bread or baguette, butter and our delicacy-caviar.
Way to applying, too, quite simple, cooled oils spread the thin slice of bread and from above evenly cover caviar.
The most original and interesting sandwiches are considered, on which one slice is present as red caviar and black caviar.
But, if you also fry the bread until golden crust, you will get a real gastronomic pleasure, incomparable with anything!!!
---