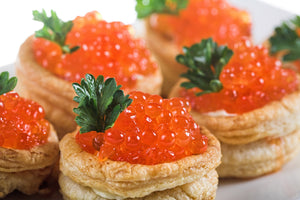 New Year's Festive Caviar Appetizer
A festive New Year's table should not be without the main holiday attribute - Caviar! It makes no difference what kind of caviar it is, whether it is black caviar or red caviar, its presence is what matters! Lots of festive dishes can be garnished with caviar and it will look fantastic, delicious and expensive! So many appetizers can be prepared with caviar! For example, a wonderful and tasty cold appetizer called tartlet with caviar which rightfully occupies the first place amongst appetizers.
Tartlet with Caviar
The recipe for tartlet with caviar is extremely simple, and will decorate any festive table. To prepare this appetizer, you only need 3 ingredients:
Tartlets
Cream cheese
Caviar (Black or Red, or both).
Put a small amount of cottage cheese in the tartlet and decorate with red or black caviar on top and you're done! 
Exquisite and tasteful!
---